Pleasanton, Ca.
I began training with Mike West 1 month before my 52nd birthday.  I always dreamed of competing as a bodybuilder.  I used to watch bodybuilding competitions on television with my dad when I was growing up.  I was always fascinated with Arnold Schwarzenegger, Franco Colombo and Lou Ferrigno.
As I began training with Mike he encouraged me to compete in powerlifting.  I have competed in 3 powerlifting competitions setting State and American records in my age and weight class.  On October 25, 2014 I competed in my first bodybuilding competition and came in first place.  I was also awarded my pro card.  I'm looking forward to competing as a pro in 2015.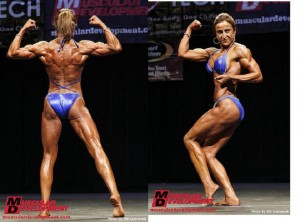 Janine J
San Mateo, CA
Janine has competed in both powerlifting and bodybuilding since 2006. She holds State and American records within the 132, 148, and 165 pound weight classes in Raw, Classic Raw, and Single-Ply geared powerlifting. She has also earned first place titles in both Master's and Open class bodybuilding. Janine completed a degree in Dietetics at San Francisco State University and worked as a Registered Dietitian at Stanford University Hospital before taking off to raise her three children. Along with her interest in nutrition Janine has developed a lifelong passion for weight training. She strongly believes in a direct positive link between weight training and longevity. At 48 years young she plans to continue to train and compete not only to challenge herself and to break records, but also to keep herself strong………..both physically and mentally.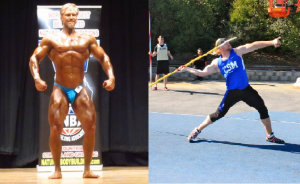 Evan McDaniel
San Mateo,Ca
Evan first began working with Mike while preparing for his 2013 Track and Field season with the College of San Mateo. That year, he managed to break the school record in the shot put, which had stood firm since 1989. Evan also won the CCCAA State Championships and was the Junior College National leader in the shot put, as well as getting on the podium and ranking nationally in the discus and hammer throws. After this success, Evan turned his eye to powerlifting, where he quickly became a USPA Class 1 powerlifter, totaling 1620 at his first single-ply meet. Since then, he has increased his total to 1670, and now has set his sights on turning pro in Natural Bodybuilding.
Cassy Krause
Alameda, Ca
I started my weight training in 2005 at the age of 50 due to a health issue. I was diagnosed with osteoporosis in my low back and hips. It was a slow start. As I gained confidence in my training I liked the physical results I started to see. It was suggested I try competing in bodybuilding (figure). I had a few false starts and was discouraged with my attempts.So in 2011 I started training with Mike West of Mike West Fitness. So with the help of my new trainer I have competed in powerlifting and in 2012 figure category of bodybuilding at the age of 57 with excellent results. Far better than I have ever expected. Its been a hard journey but there is no looking back, just going to keep moving forward and hopefully compete in physique category of bodybuilding.Part of my time is spent working as a Licensed Massage Therapist.
Stats:
April 28,2012 Oakland,Ca,
Silver & Black Natural Bodybuilding Show
1st Place Figure Grand Masters
Sept,15,2012  San Rafael
Night of The Natural Champions
1st Place Figure Grand Masters
Oct 27,2012 Sacramento,Ca,
Western USA
Figure Grand Master's 2nd Place
Best Powerlifting Competition Lifts
Feb. 2014 148 lb.  Weight Class:
253 lb squat / 126 lb bench press / 270 lb deadlift
Dec. 2013 132 lb Weight Class:
220 lb squat / 110 lb bench press / 259 lb deadlift
Current California state record holder in three separate divisions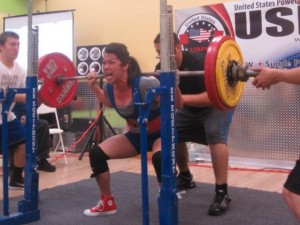 Sylvia started her fitness career at the age of 40 and has been competing in powerlifing for the past few years. She holds several records at the State and National levels, and has achieved Elite status in the United States Powerlifting Association. Her best total to-date is 914 and some day soon will break the 1000 mark! When she is not on the platform, she works as a Contracts Manager for a global staffing firm located in the Bay Area.
Aug 14, 2010 – WABDL Capital City Powerlifting – Masters Deadlift only – 1st place

Nov 20, 2010 – APA-WPA West Coast Raw – Masters – 2nd place
Dec 5, 2010 – United Powerlifting Assoc. – Masters Raw – 1st place (national record)

June 11, 2010 – WABDL Rocky Mountain Regional Powerlifting – Masters Deadlift and Bench – 1st place

Sept 10, 2011 – USPA Sierra Nevada Cup – Full power single-ply – 1st place Masters & Open (state/national records and best lifter)

Oct 9, 2011 – USPA San Jose Open – Full power single-ply – 1st place Masters & Open (state/national records)

Dec 10, 2011 – USPA Norcal Championships – Full power single-ply – 1st place Masters & Open (state/national records and best lifter)

Feb 18, 2012 – USPA West Coast Open – Full power single-ply – 1st place Masters & Open (state/national records)

Apr 22, 2012 – USPA Spring Classic – Full power single-ply – 1st place Masters & Open (state/national records)

Oct 7, 2012 – USPA San Jose Open – Full power single-ply – 1st place Masters & Open (state/national records, Elite lifter)

Dec 15, 2012 – USPA Norcal Championships – Full power single-ply – 1st place Masters & Open (state/national records)

Dec 14, 2013 – USPA Norcal Championships – Full power single-ply – 1st place Masters & Open